Aug 13th 2018
- Spigot 1.13 updated to build 1784
- Updated /help text with additional commands.
- Updates /rules formatting now matches other in game texts.
- Created a new custom Welcome Message upon joining the server.
- Formatted /trade commands to match other help pages.
- Added /trade to the /help commands list.
- Custom join/leave server messages added and updated.
Aug 12th 2018
- Spigot 1.13 updated to build 1782
- Forum software updated.
Aug 11th 2018
- Spigot 1.13 updated to build 1775
- Website redirect added, entering just minecraftserver.com in a web browser now redirects here.
Aug 9th 2018
- Spigot 1.13 updated to build 1769
- Claimblocks earned increased to 125 per hour played.
- Players are informed when item durability reaches 10% durability left.
- Auto AFK is set to 10 mins of no activity, players are auto kicked after 2 hours of AFK.
- /coords is now an alias of /pos as players are used to /coords.
Aug 8th 2018
- Spigot 1.13 updated to build 1765
- Allowed player overwritting of Home location.
- Player to Player trading via GUI has been enabled see below for commands.

Trade Commands:
/trade - Shows all possible trade commands and information.
/trade [playername] - Sends trade offer to specified player.
/trade accept - Accept currently pending trade request or click Accept on the screen.
/trade deny - Refuses a players trade request.
/trade block [playername] - Blocks trade requests from player (per user).
/trade toggle - Toggles global trade accepts (per user).
Aug 7th 2018
- Spigot 1.13 updated to build 1761
- New player on join issues fixed, no longer gives stone and wood blocks.
- Spawn temporarily moved and protected. Please note this is not spawns final location.
Basic Commands:

/afk - sets you to be away form keyboard.

/blockinfo - Shows block information including it's real name.

/compass [sourceName] (targetName) (x) (z) (worldname) (-s) - Sets compass target to location or specific location on map.

/ping - shows your current ping in milliseconds.

/msg - sends a message to another player.

/chat [playerName/off] - enables persistent chat mode where you can write public messages and they will be sent only to defined player.

/checkexp (playerName) - Checks players exp level with no name specified shows your own experience level.

/helpop [message] - sends message to help channel and any player who can give help will see that message.

/ignore (playerName/uuid/all) - add/remove player to ignore list.

/iteminfo - shows item in hand information.

/lastonline [timeRange/list/stop] [page] - shows list of last online players from time range. Excludes currently online players.

/list - Shows list of online.

/near (distance) - shows players near you.

/msgtoggle (playerName) - Toggles private messages on and off.

/playtime (playerName) - shows players playtime.

/playtimetop - shows top list sorted by players play time.

/pos (playerName) - prints current position including chunk and world region coordinates, light level and appropriate nether world coordinates mouse over info in chat.

/recipe (itemName) - Shows recipe for item by provided name or from players hand. Option to click on any item in recipe GUI to check its recipe.

/delhome (homeName) - removes home from player by defined name.

/reply or /r [message] - reply to last player who messaged you.

/seen [playerName/uuid] - shows last time player was seen.

/sethome (homeName) - sets home location for you or target player, if name not defined then home is used by default.

/sit - sit down...
So..........
Yeah.
Anyway. Server's up. natbyte is alive. Prepare for Armageddon.
Maps wiped. Everything is back to normal. Expect Phantoms.
Will update this post to reflect known plugins, but expect the server to exist as a vanilla-like plugin-lite experience.
Currently we have:
Essentials (for /sethome and the like)
Chat plugin coming "soon"
Grief Prevention (Gold Shovel used for marking corners, stick to check claims --
http://bit.ly/mcgpuser
)
That's it. No more /fly. No more /pancakes or /kittycannon.
If you missed us and wanted to see what happens when natbyte says "fuck it, lets go back to basically vanilla" this is your chance.
ip:
minecraftserver.com
Sidenote: All donation statuses have been, at this point, officially reset.
-- BSPiotr
Via AquaXV:
As you all have noticed by now the server has been offline for a while, the cause was a power outage at the datacenter which reset a setting. After some contact with natbyte he let out there is no intention in keeping the server online because the times he was online there was nobody playing so he considered it a waste of energy. He did not tell us when he would pull the plug.
Last week was this moment, he shut down the server permanently.
He did mention working on a smaller vanilla server (hosted on a different machine) with only protection plugins. As of yet I do not have more information about this new server.
It is with great regrets to inform you MinecraftServer.com as we all knew it is no more. I do want to thank you all for the wonderful and amazing times and for being able to be part of this once amazing community. And I speak for all the staff when I say; Thank you.
---
Apparently the forums will continue to exist for the known future, however do not expect much activity here unless something happens; if you wish to keep up with the community, we do have a discord server, available
HERE
.
Sincerely,
BSPiotr and the rest of the OS Team (AquaXV, Dzyriq, Stanky2)
And of course, Natbyte
Server updated to 1.12!

All plugins are updated.
No data or entities were lost during the update.

A change has been made to the Novice Gatherer requirement;
instead of smelting 1500 iron ingots you now need to craft 3000 smooth stone bricks.
This change is made to prevent an exploit with the iron ingots.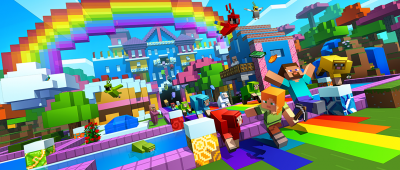 At long last
, 1.12 is finally upon us. This update brings in a variety
of new content that will be sure to spice your desires and tickle your fancy.
Among the changes include newly added parrots (don't feed them
chocolate!!!), concrete blocks, a knowledge (recipe) book, colorful beds,
and my personal favorite, a
narrator that will read chat aloud to you when
you press CTRL+B. How cool and useless is that?!?!
If you'd like to see a complete list of new features, changes, and bug fixes
introduced in this update, click here.
Expect 1.12 to drop into MCS in 1.5 to 2 weeks. Until then... Play single player, pick your nose, roll down
a hill, pretend to be a crumb on your kitchen floor, climb a mountain, eat pineapple... Do whatever you'd
like that will be sure to distract yourself enough to patiently wait for our server to update. If you wish to
continue playing on our server, do not update your game client, or switch to the 1.11.2 client by using a
different launch profile. If you're not sure how to do that, click here.
As always, happy crafting! -Fill
​
This weekend, starting on Friday, April 28th, at 12pm CEST, everybody will have double claim block gain!
Instead of the regular 75 blocks per hour you will obtain 150 blocks per hour.
The increased gain will last until Monday, May 1st, 12pm CEST.

See you in the server!
Image courtesy of It's a craft !
Time for another snapshot update!

Previous snapshots leading to the introduction of 1.12 have been focused primarily on adding new features into the mix, but starting this week, Mojang is solely focusing on bug fixes, optimizations, and making minor last minute adjustments needed to accommodate everything that has been introduced in prior snapshots.
Changes in snapshot 17w17a
​
Added lots of new advancements and moved existing ones around

​

Gave terracotta blocks unique colours on the map

​

Tweaks to the difficulty of the Illusioner

​

Reverted the purple skulker colour, sorry about that!

​

New sound effects, including new note blocks notes!

​

Made the tooltips in advancements UI overlay the screen

​

Technical: Added "UpdateLastExecution" nbt tag to command blocks, useful for loops

​

Technical: Added bulk-granting/revoking to the /advancement command

​

Technical: Allow advancements to trigger commands as rewards

​

Technical: Optimized the recipe book a little

​

Technical: Advancement icons now allow data values

​

Fixed bug MC-114971 - Missing usage translation for '/advancement test' command

​

Fixed bug MC-114979 - advancement command doesn't allow bulk grant/revoking

​